For sale a hotel unit of 2,200 sq.m. in the new Port of Igoumenitsa (819)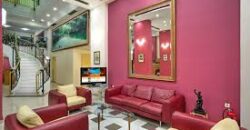 Description
For sale a hotel unit of 2,200 sq.m. opposite the new port of Igoumenitsa. It is located in an area of ​​a total area of ​​3,500 sq.m. It has 38 rooms of 35 sq.m. each, 80 beds, reception area, 100-seat restaurant and conference center.
Year of construction: 2000.
Sale Price: € 6,000,000
This price includes the plot of 1,429 sq.m. located at the back of the hotel (of the same property) that borders the building and allows the expansion of the hotel ensuring more high quality facilities.
The hotel is located in a very privileged position just a few meters from the port of Igoumenitsa which has main connections to the Italian ports (Bari, Brindisi, Ancona, Venice, Ravenna) as well as Corfu. According to the official website of OLIG, it is stated that 2.5 million passengers and 250,000 trucks are transported annually, while the strategic planning as portrayed by the port administration includes the development of the port as a "green port", its establishment as a destination. cruise line, as a strong commercial center, and the development of a marina network.
Aktio Airport is only 93 km away and connects the airport with various destinations (Italy, Germany, Austria etc.) and many Charter flights from March to October thus ensuring the possibility of offering vacation packages.
It can be concluded that the purchase of the hotel has significant comparative advantages and special investment interest.