Land for sale 4,157.53 sq.m. with a building permit opposite Lidl Igoumenitsa. (703)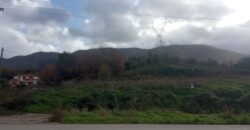 Description
Land for sale with an area of 4157.53 sq.m. in Mavroudi Igoumenitsa on the national road Igoumenitsa-Ioannina near the existing building of Lidl. It has a building permit for a store and meets the requirements of suitable real estate for a department store.
Basement: Total floor area 412.80 sq.m. Height 3.40.
First: Area 598.38 sq.m. Building Height 7.00.
Sale price 300,000 euros.